Paradigm Speakers
We are proud to welcome Paradigm Speakers to the Impressive Family of top quality, top fidelity audio offerings.
About Paradigm Electronics
For over twenty-five years, Paradigm has set the standard for sonic excellence in every product category we offer. And while we remain focused on what we consider the "absolutely essential" performance/value relationship, we continue to push the boundaries of speaker design. Breathtaking accuracy, a spacious soundstage, pinpoint localization, deep, powerful bass and thrilling dynamics are hallmarks of Paradigm's advanced speaker designs.
Rave reviews the world over and hundreds of product awards continue to confirm why Paradigm is the first choice for even the most critical listener.
GOOD SOUND (we mean really good!)
A true audiophile series…by audiophile we mean designed for people who love high-end equipment and can distinguish between good speakers and bad ones, good sound and bad sound. Although! Hold that thought … if you're not an audiophile, just drop by your local Paradigm Dealer who'll let you sit down and listen to Paradigm speakers. One listen and you'll be an instant audiophile. You'll know good sound. And once you know good sound, there's no going back. For twenty-five years Paradigm has set the standard for sonic excellence in every product category we cover. If you're new to high-end audio, Paradigm is for you. If you're not new, but on a budget, Paradigm is for you. If you want speakers but don't know what brand, Paradigm is for you.
SE SERIES
• G-PAL™ Gold-Anodized Pure-Aluminum Dome Tweeters
• S-PAL™ Satin-Anodized Pure-Aluminum Bass/Midrange Cones
• Mineral-Filled Co-Polymer Polypropylene Bass Cones
• Advanced Motor/Magnet Structures
• Reference Crossover Networks
• Finishes: Rosenut, Black Gloss
• Includes the new award-winning MilleniaOne and MilleniaSub compact lifestyle systems
MONITOR SERIES
• H-PTD™ High-Efficiency Pure-Titanium Dome Tweeter
• M-ICP™ Minimum-Mass Injection-Molded Co-Polymer Bass/Midrange Cones
• High-Power Carbon-Infused Bass Cones
• Oversized Motor/Magnet Structures
• Finely Tuned Crossover Networks
• Finishes: Wengé, Cherry, Rosenut, Black Ash, Black, White (varies by model)

Technology & Design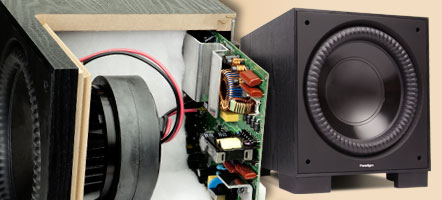 Technology, by definition, is the practical application of knowledge. When it comes to sound reproduction, no one knows more than Paradigm. When it comes to the practical application of that knowledge we're committed to doing it better! Better measurements, better materials, better components always result in better sound … and better speakers.
While many speaker companies do not have the resources to design and manufacture their own drive units, Paradigm purpose-designs robust drivers for specific speakers.
To ensure superb consistency, our crossovers boast hand-selected precision parts.
Our high-power, high-current amplifiers with oversized power supplies and massive heatsinks deliver tremendous (and instantaneous) power output at all times.
Use your knuckles! Rap on our enclosures! As one reviewer asserted, they're as dead as we claim in our literature! Acoustically inert high-density hardboard reinforced by strategically located radial braces limit unwanted resonances and increase enclosure stiffness. At other times, no bracing is even required on our speakers, even on our most powerful subwoofers as they pound out the deepest, loudest bass imaginable … it's all in the design!
Custom speakers, often referred to as architectural speakers — designs hidden out of sight in a wall or ceiling (for those who don't have the space or want a minimalist approach to music and home theater) — are growing in popularity. Again, Paradigm is leading the way in this area. When it comes to in-wall/in-ceiling speakers, there is no substitute for good design build on years of experience producing the very best sounding freestanding designs. More than 25 years of intensive research and design backed by cutting-edge technology, much of it proprietary, lie behind every custom speaker we produce. The result? Sound reproduction that rivals that of the very best freestanding designs.
Precision. Consistency. Long-term reliability. These are inherent characteristics of even the smallest Paradigm component part. Technology and design that represent true innovation in the pursuit of perfection in audio reproduction. Out of this come sonic accuracy and purity, a clean, detailed and transparent reproduction of the original performance, nothing more, nothing less.
It starts with knowledge, it ends with knowing, knowing that you've created a better product … an audibly better product. You hear it in every Paradigm speaker produced!